Event Details
Date & Time: Sat, May 29 @ 7:00pm - 9:00pm
Location: Quartyard
Address: 1301 Market St, San Diego, CA 92101
Tickets
Description
Join us for a fantastic evening of Music presented by Electric Playground featuring
Los Sleepwalkers
Julia Sage & The Bad Hombres
This event is 21+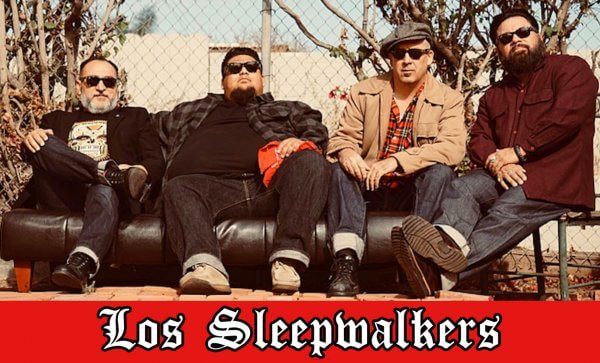 The Sleepwalkers have been playing authentic Americana roots rock since 1992. They specialize in original American music styles ranging from blues, country, Tex-Mex, Cumbia, and their own brand of roots rock.
In 1999 they released their first album Can't Stop Rockin' on Relampago-go records, which earned them positive national reviews, and a nomination for Best Americana album at the San Diego Music Awards. Their songs "Dead of Night" and "Vas A Ver!" were included in the movie Ofrenda Desnuda in 2007, which was directed by International Film Award Winner, Guillerma Von Son.
In 2008, the Sleepwalkers recorded a cover of Bart Mendoza's song "Days & Maybe's" (re-titled "No Me Cueste"), which was included on Forty One Sixty: The Songs of the Shambles.
Since their inception, they've played with top National artists & legends such as Link Wray, Ronnie Dawson, Sleepy Labeef, Charlie Ryan, The Texas Tornados, The Blasters, The Fabulous Thunderbirds, Kid Ramos, The Beat Farmers, Freddy Fender, The Rev. Horton Heat, Big Sandy, The Supersuckers, BR5-49, The Blazers, Paladins, Johnny Legend, Rosie Flores, The Mighty Blue Kings, Graham Parker, El Vez, The Royal Crown Revue, Big Bad Voodoo Daddies, Roy Condo, Harry Dean Statton (and many
others), & have garnered 6 nominations for Best Americana/Roots band by the San Diego Music Awards.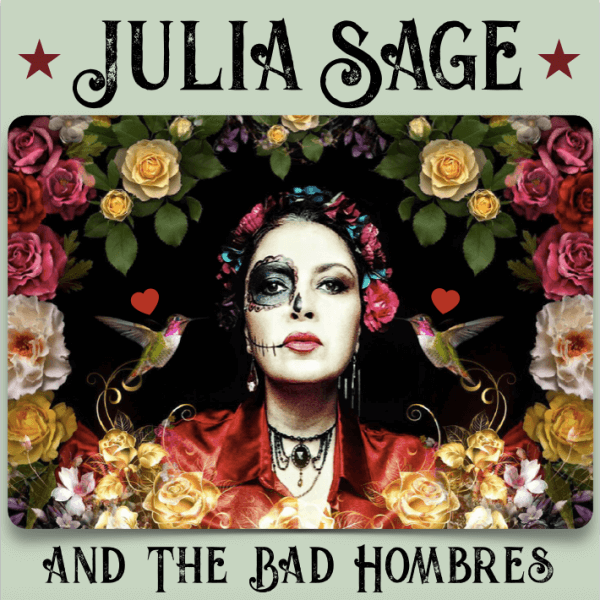 A songwriter since very early childhood, Julia Sage presently lives and plays in the greater San Diego area, where she performs both as a solo artist, as part of "Grampadrew's Flim Flam Revue" (with a residency every first Saturday of the month at The Whistle Stop Bar in South Park), and with her band, "Julia Sage and The Bad Hombres", an eclectic ensemble of musicians, guest musicians, and unusual instruments. The "Bad Hombres" include Drew Douglas (Grampadrew) on bouzouki, saw and background vocals, Matthew Strachota (of Trailduster and Bartenders Bible) on keys/banjo/guitar and background vocals, Chad Pittman (of River City) on bass and Natasha Cruz on percussion.
If you are ready to let your ears explore some Chilean Folk/Blues SouthAmericana™, make sure to check out one of their shows around town.With her soulful vocals, witty and heartfelt bilingual songwriting as well as her cheeky stage personality, she will draw you in and keep you entertained during the entirety of the performance.
Nominated for Best New Artist by the San Diego Music Awards, 2019.
IMPORTANT DETAILS
All seating will be provided at socially distanced seating, at least 6 feet apart from another table of guests.
Performers will perform 12 feet away from guests at all times.
2 ticket tables – $25 per ticket
4 ticket tables – $20 per ticket
(due to seating inventory and socially distanced table placement, quantities vary, first come first serve)
2 Drink minimum per guest + 1 food item required at seating, 18% gratuity added to checks
Quartyard is an 11,000 square foot outdoor space, seating is capped at 100 guests
Tickets will be sold by purchasing a table as a whole.
No refunds on registrations, If guests are unable to attend, they may email events@quartyardsd.com and register for an alternate event in the future of equal or lesser value.
Rain delays may happen; if rain is forecasted, Quartyard will email registered guests within 2 days to update guests.
———————————————————————————————–
HOW WE KEEP YOU AND OUR STAFF SAFE
COVID-19 GUEST OUTLINE
Guests that are sick or exhibiting any symptoms of COVID-19, please stay home. Symptoms include: fever, chills, cough, shortness of breath, sore throat, congestion, runny nose, nausea, vomiting, and diarrhea.
Face coverings must be worn when entering and checking in, walking to the restroom or bar, exiting, and any time you are not seated at your table. Face coverings are not required when seated at a seat.
Hand sanitizer and soap are provided in the restroom.
Maintain 6 feet of physical distance from other tables, please do not approach groups outside of the table that you are sat with.
Wash your hands regularly.
Guests and staff will self report if any signs of COVID-19 arise within 14 days of attending the event at Quartyard to events@quartyardsd.com
Guests that do not adhere to the outline rules will be given 2 warnings and then asked to leave the premises (3 strikes and you're out).
Please be sure to follow all other rules outlined by Quartyard and as rules and conditions are continually changing please be patient and understanding with Quartyard personnel.