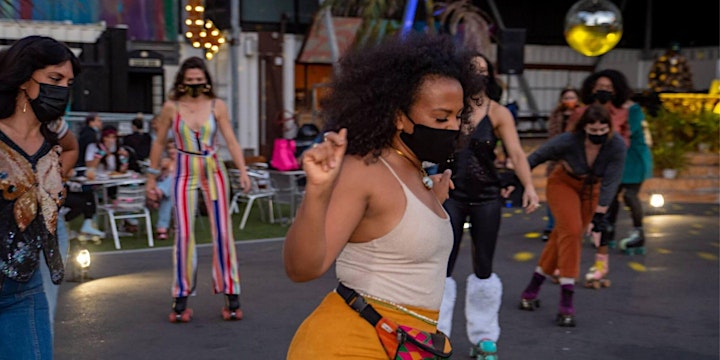 From the creators of Roller Skates + Taco Plates, we bring you:
Derrick Pernell's : Rep Yo City Roller Skate Jayum (skate instruction and free skate)
About The Event
Featuring Skate Instructions from: Derrick Pernell
Born and raised in Atlanta, Georgia , Derrick resides in San Diego as an active duty service member in the United States Military.
Honing his skills for over seven years, Derrick is continuously developing his skills while teaching those around him what he knows. Primarily focussing on rhythm skate and fundamentals that applies to all levels of skating.
His number #1 goal is to help roller skaters build confidence while doing what they love and to have fun!
Long story short Derrick is on a mission to teach the world to Roller Skate.
Let's "Ride and Glide" Derrick Pernell style!
All Roller Skaters: Must Register on this page to skate, no exceptions.
*You do not need a ticket to attend Quartyard if you are not skating but capacity is given priority to registered skaters*
Hosted by Yeahhh' Mayne
6-630 – Check in and warm up
630-730 – Skate Class
730-9 – Free Skate!
Please limit 40 skaters skating at a time and opening up registration and100 registered participants.
There is a small fee ($10) to ensure RSVPs show up to skate and is used to pay the DJ and event host. All ages, all skate levels.
Tickets are non-transferable and non-refundable
Participants must have their own gear and we recommend for only experienced roller skaters to participate and to wear proper safety gear. All other details for participants are below:
Dine-In service is available according to SD County guidelines from 330-830 every Tuesday.
*Quartyard adheres to all county restaurant service outlines.*
*TO ENSURE OPTIMAL SAFETY, ALL ROLLER SKATERS MUST BE REGISTERED IN ORDER TO SKATE, NO EXCEPTIONS.*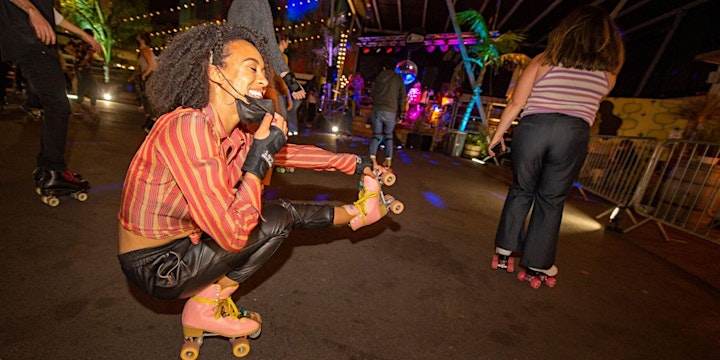 COVID-19 PARTICIPANT SAFETY OUTLINE
The roller skating portion of Quartyard will be clearly marked off as a fitness area. In order to create a safe environment for participants, staff, and guests, we ask that you abide by the following safety measures.
Participants that are sick or exhibiting any symptoms of COVID-19, please stay home. Symptoms include: fever, chills, cough, shortness of breath, sore throat, congestion, runny nose, nausea, vomiting, and diarrhea.
Face coverings must be worn when entering and checking in at the participant area, skating, using the restroom, exiting, entering, speaking to staff, etc. Masks are not required when seated at a seat.
Participants shall be temperature and/or symptom screened upon arrival and hand sanitizer will be available at no charge.
No rentals or gear will be provided or offered at Quartyard.
Maintain 6 feet of physical distance while skating. Avoid physical contact with participants outside of your house/family.
All participants must register to skate and there are no walk-ups or drop-ins will be allowed at this time. We will cap the skating area to 20 total roller skaters at one time.
Wash your hands regularly.
Participants will self report if any signs of COVID-19 arise within 14 days of participation in Roller Skates and Taco Plates at Quartyard.
Participants that do not adhere to the outline rules will be given 2 warnings and then asked to leave the premises (3 strikes and you're out).
Please be sure to follow all other rules outlined by Quartyard and as rules and conditions are continually changing please be patient and understanding with Quartyard personnel.
Waiver Must Be Signed by each roller skating participant
Must be adult or accompanied by an adult if you are a minor
No refunds on registrations, If guests are unable to attend a skate session for any reason they may email events@quartyardsd.com and register for an alternate skate session.
Rain delays may happen. If rain is forecasted and deemed unsafe to skate, Quartyard will email registered guests within 3 hours to update guests. The registered guests will be offered a new skate day that week.
ACCIDENT WAIVER AND RELEASE OF LIABILITY FORM I HEREBY ASSUME ALL OF THE RISKS OF PARTICIPATING IN ANY/ALL ACTIVITIES ASSOCIATED WITH
Roller Skates & Taco Plates at Quartyard, including by way of example and not limitation, any risks that may arise from negligence or carelessness on the part of the persons or entities being released, from dangerous or defective equipment or property owned,maintained, or controlled by them, or because of their possible liability without fault.
Registered participants certify that they are physically fit, have sufficiently prepared or trained for participation in thisactivity, and have not been advised to not participate by a qualified medical professional. You certify that there are no health-related reasons or problems which preclude your participation in this activity. You acknowledge that this Accident Waiver and Release of Liability Form will be used by the event holders, sponsors, and organizers of the activity in which you may participate, and that it will govern your actions and responsibilities at said activity. In consideration of your application and permitting me to participate in this activity, you hereby take action for yourself, your executors, administrators, heirs, next of kin, successors, and assigns as follows:(A) YOU WAIVE, RELEASE, AND DISCHARGE from any and all liability, including but not limited to, liability arising from the negligence or fault of the entities or persons released, for my death,disability, personal injury, property damage, property theft, or actions of any kind which mayhereafter occur to me including my traveling to and from this activity, THE FOLLOWING ENTITIES OR PERSONS: QUARTYARD and/or their directors, officers, employees, volunteers,representatives, and agents, and the activity holders, sponsors, and volunteers; (B) INDEMNIFY, HOLD HARMLESS, AND PROMISE NOT TO SUE the entities or persons mentioned in this paragraph from any and all liabilities or claims made as a result ofparticipation in this activity, whether caused by the negligence of release or otherwise. You acknowledge that Quartyard and their directors, officers, volunteers, representatives, andagents are NOT responsible for the errors, omissions, acts, or failures to act of any party orentity conducting a specific activity on their behalf. You acknowledge that this activity may involve a test of a person's physical and mental limits and carries with it the potential for death, serious injury, and property loss. The risks include, but are not limited to, those caused by terrain, facilities, temperature, weather, condition of participants, equipment, vehicular traffic, lack of hydration, and actions of other people including, but notlimited to, participants, volunteers, monitors, and/or producers of the activity. These risks are notonly inherent to participants, but are also present for volunteers. You hereby consent to receive medical treatment which may be deemed advisable in the event ofinjury, accident, and/or illness during this activity. You understand while participating in this activity, you may be photographed. You agree to allow your photo, video, or film likeness to be used for any legitimate purpose by the activity holders, producers, sponsors, organizers, and assigns. The Accident Waiver and Release of Liability Form shall be construed broadly to provide are lease and waiver to the maximum extent permissible under applicable law.
BY REGISTERING TO SKATE YOU AND YOUR GROUP CERTIFY THAT YOU HAVE READ THIS DOCUMENT AND YOU FULLY UNDERSTAND ITS CONTENT. YOU ARE AWARE THAT THIS IS A RELEASE OF LIABILITY AND A CONTRACT AND YOU SIGN IT OF MY OWN FREE WILL.