Event Details
Date & Time: Fri, Mar 19 @ 6:30pm - Mon, Mar 8 @ 9:00pm
Location: Quartyard
Address: 1301 Market St, San Diego, CA 92101
Tickets
Description
Live music is back and we are very excited to welcome back The Nu Moods Band featuring:
Lexi Pulido (vocals)
Harley Magsino (bass)
Louis Valenzuela (guitar)
Julien Cantelm (drums)
Musicians will be invited on stage to jam with the Nu Moods band too, if you are interested in participating contact us at: Justin@quartyardsd.com
Doors at 6:30 / show starts at 7pm
Seats are $10 with a 2 ticket minimum / 2 drink and 1 food item minimum / no refunds / all age guests are welcome and require a food item purchase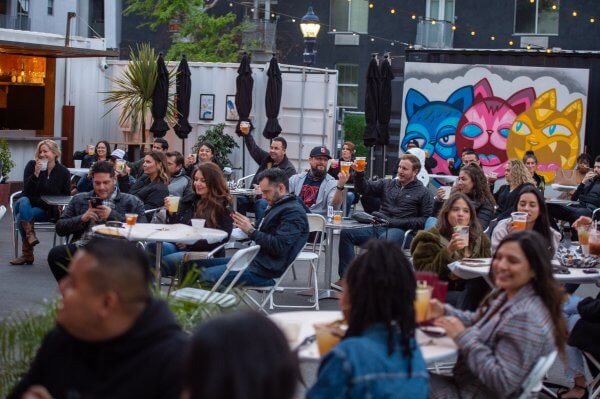 IMPORTANT DETAILS
All seating will be provided at socially distanced seating, at least 6 feet apart from another table of guests.
Performers will perform 12 feet away from guests at all times.
2 ticket minimum, 6 ticket maximum per table (due to seating inventory and socially distanced table placement, quantities vary, first come first serve)
2 Drink minimum per guest + 1 food item required at seating, 18% gratuity added to checks (all age guests just food item)
Quartyard is an 11,000 square foot outdoor space, seating is capped at 100 guests
Tickets will be sold by purchasing a table as a whole.
No refunds on registrations, If guests are unable to attend the may email events@quartyardsd.com and register for an alternate event in the future of equal or lesser value.
Rain delays may happen; if rain is forecasted, Quartyard will email registered guests within 2 days to update guests.
HOW WE KEEP YOU AND OUR STAFF SAFE
COVID-19 GUEST OUTLINE
Guests that are sick or exhibiting any symptoms of COVID-19, please stay home. Symptoms include: fever, chills, cough, shortness of breath, sore throat, congestion, runny nose, nausea, vomiting, and diarrhea.
Face coverings must be worn when entering and checking in, walking to the restroom or bar, exiting, and any time you are not seated at your table. Face coverings are not required when seated at a seat.
Hand sanitizer and soap are provided in the restroom.
Maintain 6 feet of physical distance from other tables, please do not approach groups outside of the table that you are sat with.
Wash your hands regularly.
Guests and staff will self report if any signs of COVID-19 arise within 14 days of attending the event at Quartyard to events@quartyardsd.com
Guests that do not adhere to the outline rules will be given 2 warnings and then asked to leave the premises (3 strikes and you're out).
Please be sure to follow all other rules outlined by Quartyard and as rules and conditions are continually changing please be patient and understanding with Quartyard personnel.