At Quartyard we celebrate a wide variety of communities and we are always curious to discovery what other groups of creatives are out there.
So when Founder Ashley Shifflett approached us about her workshops, NICHE, Please!, that brings together people curious to learn a new skill we were happy to play host.
Still unsure what Niche, Please! is? We will let Ashley explain further
What is Niche-Please? 
Niche, Please! unites San Diego's curious minds with talented experts in a range of topics from lifestyle trends to alternative art. Whether you want to learn a new skill or improve a current one, our short, in-person workshops connect you with local professionals that want to share their passion.
Where did the idea or inspiration come from? 
I'm always eager to up my game in the latest trends but never have time to either a) teach myself or b) sign up and take formal classes. I'm also always seeking something fun and unique to do. So I decided to bridge the two together. Learning can be fun, accessible and un-intimidating. Plus, it's an alternative for the typical night-out – kick back with a cocktail in hand and enjoy the experience. It's a win, win!
What can participants expect from the first activation? 
Mai Tran, a professional modern calligrapher, will teach students the basic techniques of brush lettering from when and where to add the proper amount of pressure on the pen to all of the possible lettering styles. Once she completes her lesson and allows everyone to practice on their own, each person will create masterpiece with their favorite quote. Participants will get to take their guide sheets and brush pens with them to continue practicing their new skill at home!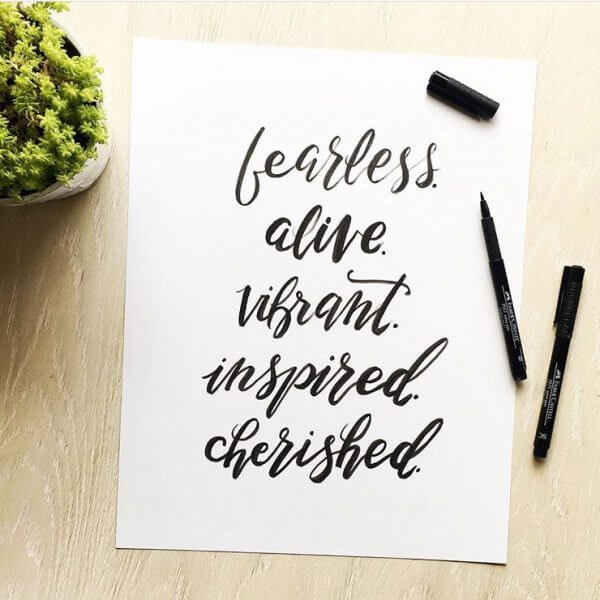 What makes a Niche-Please experience different than other interactive art classes? 
With a rotating schedule of topics and locations, each experience will be unique. As we speak, our team is crafting a broad line-up of unconventional topics. With classes like sushi rolling, Instagram photography or beach waves and buns, there's something for everyone!
When did you start getting interested in art classes and what do you want participants to leave with? 
Ever since I was a child, I've been creative and adventurous. My favorite classes were the ones that would allow me to apply my artistic ability and individuality. This is exactly what I want others to experience in our classes. Unleash your inner genius. Who knows, maybe you'll discover a talent you never knew you had. But above anything else, have a damn good time!
Anything else you would like to add? 
With this brand new initiative, we are seeking ideas and inspiration from the public. If you have a suggestion for a new class or if you are a talented expert that is passionate about sharing your niche, please let us know! And to all of those that can't wait to take a class, sign up for our newsletter to be the first to hear about newly released classes. Visit www.niche-please.com to find out more!